Commissioner's Office
Phone:  651-284-5010 or 800-342-5354
Email:  dli.communications@state.mn.us
Commissioner's Office
443 Lafayette Road N.
St. Paul, MN  55155
Commissioner Ken Peterson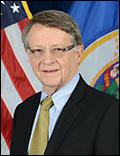 Ken Peterson has served as commissioner of the Minnesota Department of Labor and Industry under Governor Mark Dayton since January 2011. He previously served in the same position from 1988 to 1990. The agency oversees the state's apprenticeship, construction codes and licensing, occupational safety and health, wage and hour standards, and workers' compensation programs. His chief goal in the Dayton Administration's second term are to help better prepare Minnesota's future workforce, make the state's workplaces safer and work with labor and employers to improve the workers' compensation system.
Peterson has served in other leadership roles at the state and city levels. He served as deputy attorney general at the Minnesota Attorney General's Office; was deputy commissioner for utility regulation of the state Department of Public Service; directed St. Paul's Planning and Economic Development Department and was chief of staff for St. Paul's mayor.
In addition to public service, Peterson has worked in private law practice and as an associate professor of management at Metropolitan State University. Peterson started his legal career on the Leech Lake Indian Reservation in northern Minnesota. He is president of the National Association of Government Labor Officials and serves on the board of directors for the Minnesota Safety Council, St. Paul District Energy and The History Theater.
Peterson grew up in Osakis, Minnesota, and is a graduate of Hamline University (Bachelor of Arts); George Washington University (Juris Doctor); and Harvard University (Master of Public Affairs). He and his wife live in St. Paul and have two adult children.
Deputy Commissioner Chris Leifeld

Chris Leifeld is DLI's deputy commissioner and has also overseen the Workers' Compensation Division since Jan. 1, 2015. He joined DLI in 2011 and has served as the director of the division's Vocational Rehabilitation unit and Alternative Dispute Resolution unit.
Leifeld has worked in both the private and non-profits sectors and his previous state-government experience includes serving as the assistant to the commissioner in the Minnesota Department of Corrections.
Leifeld is a graduate of the University of St. Thomas (Bachelor of Arts) and from the University of Minnesota (Master of Education).
Assistant Commissioner Heather McGannon

Heather McGannon is DLI's assistant commissioner of its General Support Division, which includes Communications, Financial Services, Human Resources, Legislative Affairs, Office of General Counsel, Projects and Planning, and Research and Statistics. She joined DLI in September 2014 and has served as director of the Projects and Planning unit, responsible for agency innovation projects, grants, continuity planning, continuous improvement and facilities, as well as employment-based programs, such as the PIPELINE Program and the Youth Skills Training Program.
Before her work at DLI, McGannon was in various leadership roles in workforce development within the Minnesota State System at Saint Paul College and Hennepin Technical College for 13 years.
McGannon is a graduate of the University of Minnesota (Bachelor of Science) and St. Mary's University of Minnesota (Master of Management).
Assistant Commissioner Scott McLellan

Scott McLellan is DLI's assistant commissioner for its Construction Codes and Licensing, Labor Standards and Apprenticeship areas. He directs the work of Construction Codes and Licensing and serves as Minnesota's state building official.
McLellan has worked at DLI since 2006, before then he spent 17 years with the Minnesota Department of Administration. He also worked seven years in city government at the City of Plymouth and the City of Columbia Heights.
McLellan is a graduate of North Hennepin Community College (Associate of Arts Building Inspection) and Northwestern College (Bachelor of Science).