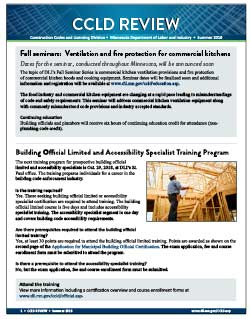 View the summer 2018 edition of the CCLD Review
Some of the stories in this edition include:
Fall seminars: Ventilation and fire protection for commercial kitchens

Building Official Limited and Accessibility Specialist Training Program

Register now for Building Official Forum 2018

Advisory groups complete review of 2018 model codes

Bleacher-safety requirements apply throughout Minnesota

Townhouse or two-family dwelling?

License enforcement: Plumbing contractor fined $15,000

Subcontractors must be registered or licensed with DLI

Minnesota Plumbing Code frequently asked questions and answers

Minnesota Building Code frequently asked questions and answers

Free online solar training

New electrical codes and standards bulletins available

... and more.
About the CCLD Review
The CCLD Review is a quarterly publication that promotes safe, healthy work and living environments in Minnesota and informs construction and code professionals about the purpose, plans and progress of Construction Codes and Licensing Division. Subscribers may also receive periodic updates about CCLD activities and seminars.
View previous editions of the CCLD Review newsletter.
Questions?